Seta Hexagon quartz Long pierced earring Quartz long earrings/K18
se-p016
Regular price

$559.00 USD

Regular price

Sale price

$559.00 USD

Unit price

per
-
Points
出荷日の目安:配送日は45日後よりご指定いただけます
✔showroomでのお引渡しも可能です。お問合せ下さい。
International shipping

International shipping

*Please check the lead time on the product page.
In addition, we cannot accept the designation of the desired delivery date.

*Customers who wish to ship overseas are not eligible for the free shipping campaign.

*The following areas are prohibited from importing precious metals and cannot be used.

Vietnam,Netherlands,Mainland,China,Russia,Australia,Singapore,Philippines,Italy,india,Austria,Canada,Switzerland,Sweden,Spain,


Courier:Post service Air parcel
will be sent with insurance depending on the purchase amount.
When using e-packet, the maximum compensation amount is 6,000 yen.

◆HongKong
post service : Air Parcel e-packet ¥1,000 6-7days
post service : Air Parcel ¥2,500 6-7days


◆Taiwan, Korea, Thailand
post service : Air Parcel e-packet ¥1,000 6-7days
post service : Air Parcel ¥2,200 6-7days


◆Indonesia, Macao
post service : Air Parcel e-packet ¥1,000 8days
post service : Air Parcel ¥2,500 8days


◆Norway
post service : Air Parcel e-packet ¥1,000 10-20days
post service : Air Parcel ¥3,800 10-20days
(No compensation)
Fedex:¥8,000 3-5days


◆France
post service : Air Parcel e-packet ¥1,000 8days
post service : Air Parcel ¥3,800 8days


◆Belgium,England
post service : Air Parcel e-packet ¥1,000 6-7days
post service : Air Parcel ¥3,800 6-7days


◆Denmark
post service : Air Parcel e-packet ¥1,000 4days
post service : Air Parcel ¥3,800 4days


◆Germany
post service : Air Parcel e-packet ¥1,000 5days
post service : Air Parcel ¥3,800 5days


◆America
post service : Air Parcel ¥4,200 5-8days
Ring size guide

◆Ring size chart◆
✉メールで問い合わせる
ギフトラッピングを申し込む
///Hexagon quartz long pierced earring///
Long earrings with hexagonal quartz attached to stick-shaped earring hooks.

A sophisticated combination of smooth lines and highly transparent quartz.
Receiving light and occasionally leaving light and shadow on the face line,
It is jewelry that you can enjoy the expression of a moment.

It is sold as a set.

Material Quartz, K18

size
hook 3cm
Quartz 13mm *13mm


///Seta///
High-end line "Seta" by simmon designer

With the concept of "connecting memories",
something that you can wear for the rest of your life.
Something that can be passed down to the next generation.
is produced with the aim of

Carefully selected materials, simple shapes, and structural beauty.
And the design with a slight shift always shows a fresh look and never gets tired of looking at it.
At that time, the impression of the jewelry you stare at and the event will become an unforgettable memory.

Hard, perishable jewelry inherits and connects memories.
Seta values the essence of such jewelry.

Share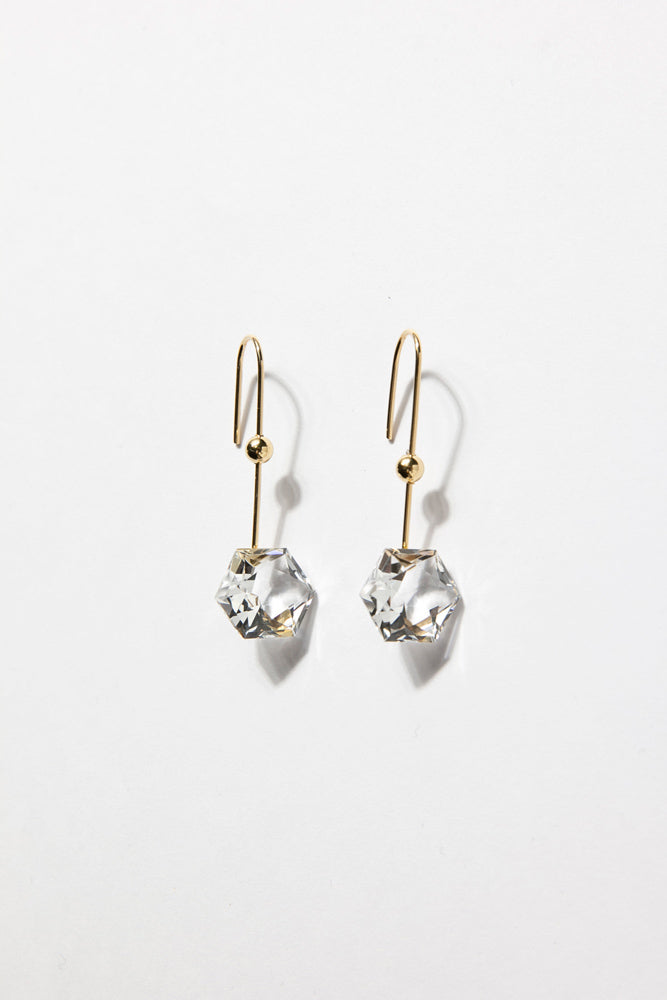 Need gift wrapping?
We offer gift wrapping sets made with patchouli original prints.

For more information, click here
Click
Information
Shopping Guide

Click here for how to use it.
First time customers, please check once.

patchouli official line

Patchouli's official LINE account is ready. Inquiries can be made in chat format.