LiniE CUFFS OF THE MOON Pearl Ear cuff ear cuff/K10
ln-0354
Regular price

$191.00 USD

Regular price

Sale price

$191.00 USD

Unit price

per
-
Points
出荷日の目安:配送日は4日後よりご指定いただけます
✔showroomでのお引渡しも可能です。お問合せ下さい。
International shipping

International shipping

*Please check the lead time on the product page.
In addition, we cannot accept the designation of the desired delivery date.

*Customers who wish to ship overseas are not eligible for the free shipping campaign.

*The following areas are prohibited from importing precious metals and cannot be used.

Vietnam,Netherlands,Mainland,China,Russia,Australia,Singapore,Philippines,Italy,india,Austria,Canada,Switzerland,Sweden,Spain,


Courier:Post service Air parcel
will be sent with insurance depending on the purchase amount.
When using e-packet, the maximum compensation amount is 6,000 yen.

◆HongKong
post service : Air Parcel e-packet ¥1,000 6-7days
post service : Air Parcel ¥2,500 6-7days


◆Taiwan, Korea, Thailand
post service : Air Parcel e-packet ¥1,000 6-7days
post service : Air Parcel ¥2,200 6-7days


◆Indonesia, Macao
post service : Air Parcel e-packet ¥1,000 8days
post service : Air Parcel ¥2,500 8days


◆Norway
post service : Air Parcel e-packet ¥1,000 10-20days
post service : Air Parcel ¥3,800 10-20days
(No compensation)
Fedex:¥8,000 3-5days


◆France
post service : Air Parcel e-packet ¥1,000 8days
post service : Air Parcel ¥3,800 8days


◆Belgium,England
post service : Air Parcel e-packet ¥1,000 6-7days
post service : Air Parcel ¥3,800 6-7days


◆Denmark
post service : Air Parcel e-packet ¥1,000 4days
post service : Air Parcel ¥3,800 4days


◆Germany
post service : Air Parcel e-packet ¥1,000 5days
post service : Air Parcel ¥3,800 5days


◆America
post service : Air Parcel ¥4,200 5-8days
Ring size guide

◆Ring size chart◆
✉メールで問い合わせる
ギフトラッピングを申し込む
///CUFFS OF THE MOON///
Jewelry with shiny pearls on ear cuffs with gold particles.
A series that compares a gentle and classy pearl to the moon.


With a high pearl, it has a strong presence from any angle.
If you fasten it so that it is inserted vertically from the high position of the ear
It can be worn smoothly even for those with thick ears.

///LiniE///
"LiniE" which means "line".
It contains the wish to become a "line" that connects nature, people, and time.

Using the one and only natural stone with inclusions,
A cool design targeting mature women with natural beauty.
With outstanding Japanese jewelry technology, each piece is carefully finished.



material
K10YG, freshwater pearl

Size about 2*1.4cm
Thickness about 2mm
Share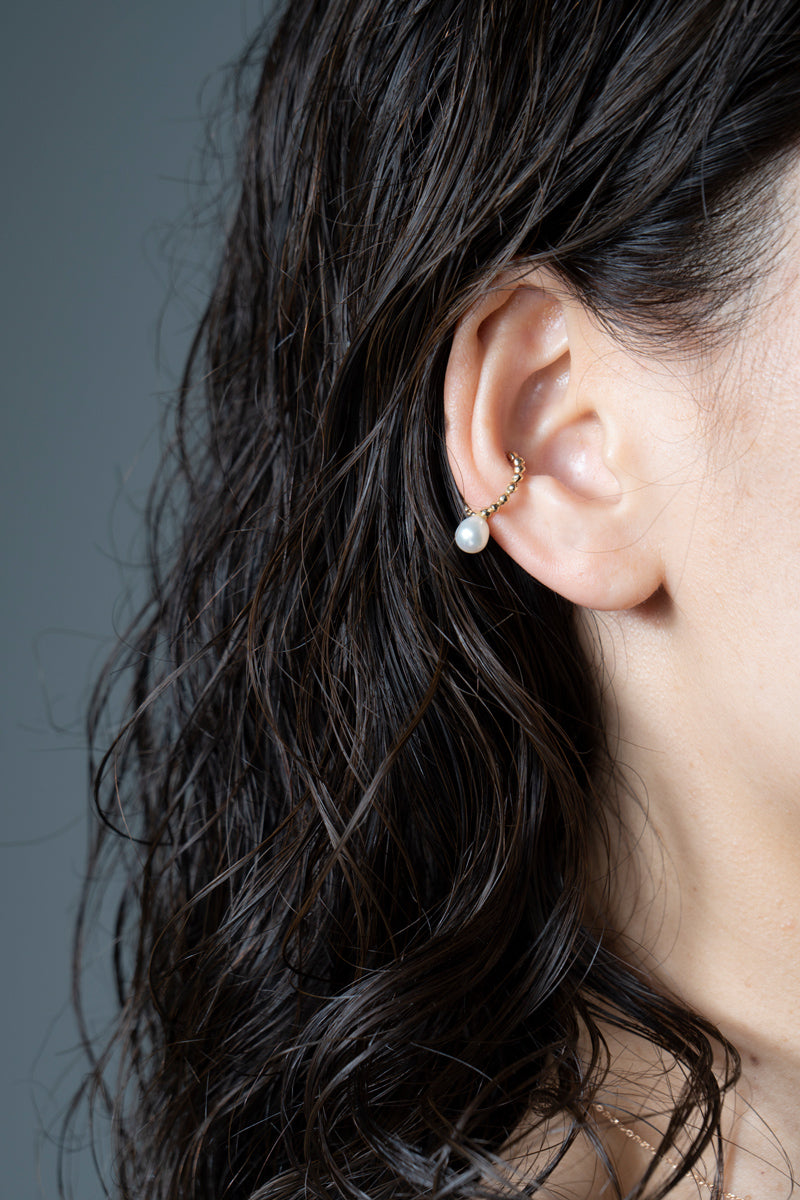 Need gift wrapping?
We offer gift wrapping sets made with patchouli original prints.

For more information, click here
Click
Information
Shopping Guide

Click here for how to use it.
First time customers, please check once.

patchouli official line

Patchouli's official LINE account is ready. Inquiries can be made in chat format.