simmon bunny tail pearl necklace bunny tail long necklace
san036
Regular price

$315.00 USD

Regular price

Sale price

$315.00 USD

Unit price

per
-
Points
出荷日の目安:配送日は45日後よりご指定いただけます
✔showroomでのお引渡しも可能です。お問合せ下さい。
International shipping

International shipping

*Please check the lead time on the product page.
In addition, we cannot accept the designation of the desired delivery date.

*Customers who wish to ship overseas are not eligible for the free shipping campaign.

*The following areas are prohibited from importing precious metals and cannot be used.

Vietnam,Netherlands,Mainland,China,Russia,Australia,Singapore,Philippines,Italy,india,Austria,Canada,Switzerland,Sweden,Spain,


Courier:Post service Air parcel
will be sent with insurance depending on the purchase amount.
When using e-packet, the maximum compensation amount is 6,000 yen.

◆HongKong
post service : Air Parcel e-packet ¥1,000 6-7days
post service : Air Parcel ¥2,500 6-7days


◆Taiwan, Korea, Thailand
post service : Air Parcel e-packet ¥1,000 6-7days
post service : Air Parcel ¥2,200 6-7days


◆Indonesia, Macao
post service : Air Parcel e-packet ¥1,000 8days
post service : Air Parcel ¥2,500 8days


◆Norway
post service : Air Parcel e-packet ¥1,000 10-20days
post service : Air Parcel ¥3,800 10-20days
(No compensation)
Fedex:¥8,000 3-5days


◆France
post service : Air Parcel e-packet ¥1,000 8days
post service : Air Parcel ¥3,800 8days


◆Belgium,England
post service : Air Parcel e-packet ¥1,000 6-7days
post service : Air Parcel ¥3,800 6-7days


◆Denmark
post service : Air Parcel e-packet ¥1,000 4days
post service : Air Parcel ¥3,800 4days


◆Germany
post service : Air Parcel e-packet ¥1,000 5days
post service : Air Parcel ¥3,800 5days


◆America
post service : Air Parcel ¥4,200 5-8days
Ring size guide

◆Ring size chart◆
✉メールで問い合わせる
ギフトラッピングを申し込む
Animals living in imaginary forests, like those in old stories
An animal series created with an image in mind.

"Fictional forest" There are lakes and flower gardens,
Pigeons, lions, and sheep live leisurely
This is a nostalgic series in which such a dream-like world suddenly appears.



Like a necklace with cute bunny tails,
Such a dreamlike necklace.

The rabbit metal fittings are nice whether you bring it to the back style or to the side.
You can use it even if it is double wrapped or long.


It is worn by turning the rabbit's gold tail.
Instructions on how to wear are included.


material
K18 gold coating (silver), freshwater pearl



size length 82cm
Share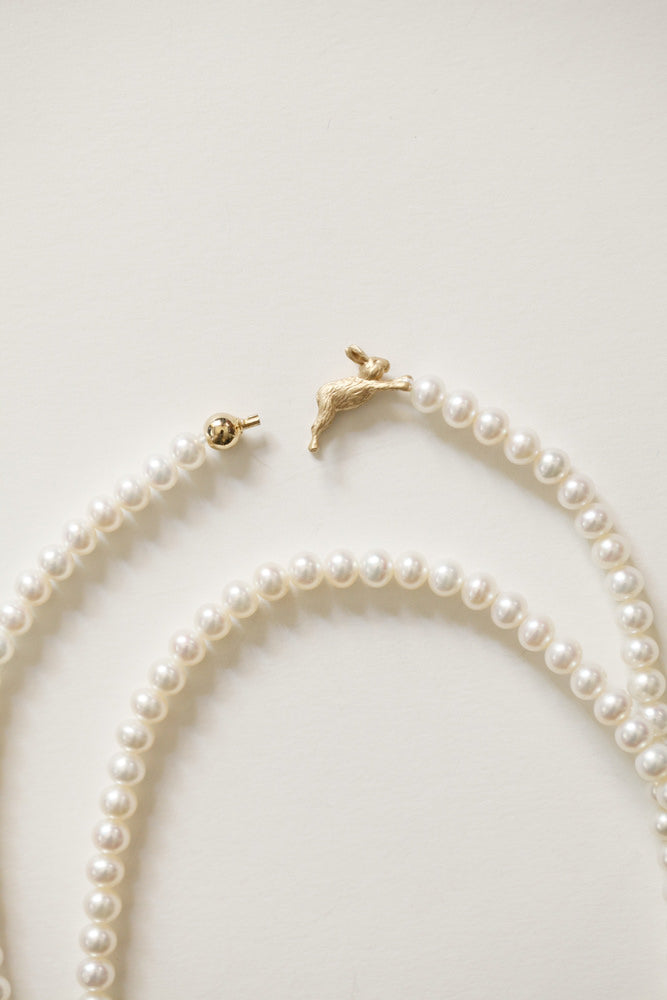 Need gift wrapping?
We offer gift wrapping sets made with patchouli original prints.

For more information, click here
Click
Information
Shopping Guide

Click here for how to use it.
First time customers, please check once.

patchouli official line

Patchouli's official LINE account is ready. Inquiries can be made in chat format.